EDIT MAIN
Principal's Welcome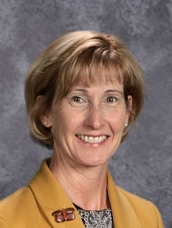 Carolann Gutierrez
K-12 Principal
cgutierrez@republicsd.org
Hello Students, Families, and Staff:
Welcome to the 2019-2020 academic school year! My name is Carolann Gutierrez (Mrs. G.) and I am excited and honored to serve as your new Republic Principal for students in grades K-12.
I grew up in Santa Fe, New Mexico and moved to this great state of Washington with my wonderful husband Larry last summer. We started our journey in Western Washington, living in Lake Stevens for a year while I was acting principal for Granite Falls Schools. Larry and I both jumped at the opportunity to live and work in Eastern Washington and serve the citizens of Republic when the opportunity arose to apply for the K-12 principal position.
While it's only been a short time since arriving, we are already feeling embraced by this loving community. It truly is a beautiful/special place to live and we are looking forward to being a part of this community for a very long time.
My college education was completed in New Mexico and includes receiving an associate's degree in business, attaining a bachelor's degree in elementary education, and I earned my master's degree in Educational Leadership from the University of New Mexico. I have taken numerous professional development classes and courses in literacy, math, science, technology, first aid, safety, teacher evaluations, student growth development, student discipline, and courses related to school finance, procurement and instructional material adoption and curriculums.
I have spent fifteen years as a teacher supporting students with their academics, social and emotional well-being, and after school programs. I loved teaching students as they are enthusiastic and motivated to learn and do their best for themselves, their families, and their teachers.
In addition, my administration experience includes fifteen years of school, central office, and state administrative positions. I supported teachers with literacy, professional development, and worked at the state level as director of Student Nutrition and Humanities. I have acted as principal and assistant principal in elementary and middle schools. My experience supporting students in high school includes acting as the AVID director and GEARUP coordinator. Both programs support students with college and career readiness, credit recovery, and graduation support. I thoroughly enjoy working with students and teachers on a daily basis and encourage families to be part of their child's education as much as possible.
The school and community have a wonderful reputation for supporting the students, school staff, administration, athletics, and celebrations! Thank you, and we appreciate you!
Please contact me if you have any questions or concerns, thank you!
Most Sincerely,
Carolann Gutierrez (Mrs. G.)
Principal K-12